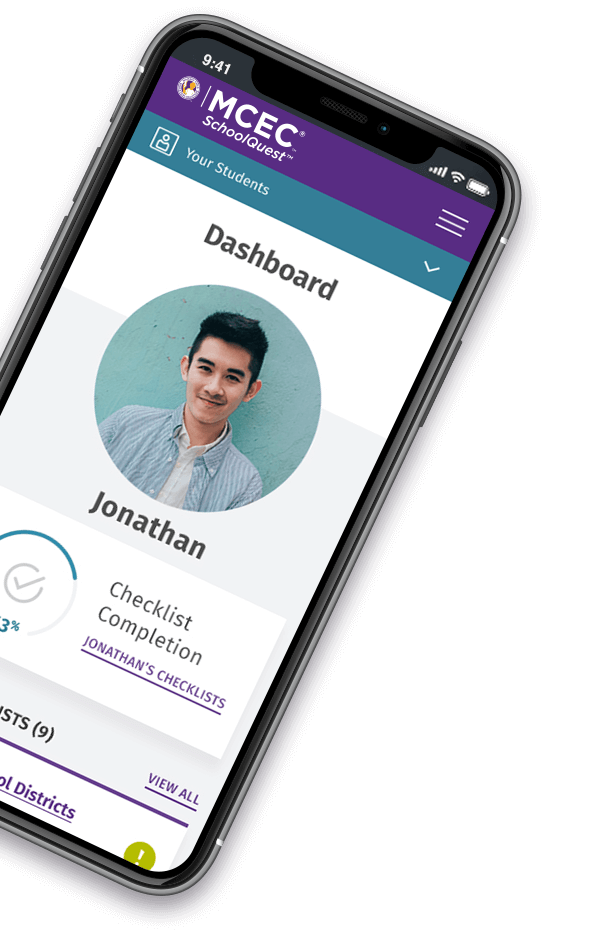 SchoolQuest Can Solve Your Most Frustrating Problems Related to Changing Schools
Plan Your Moves

Did your senior get in his AP class? Did your sixth grader get her choir elective? Eliminate problems and delays by managing multiple student's transitions simultaneously with SchoolQuest.

Stay On Top Of The Details

Did you miss the registration deadline for your child's favorite extracurricular activity? SchoolQuest's custom and prebuilt checklists make sure you can stay on top of it all.

Organize Your Records

Worried that a 10-year-old immunization record will derail the start of your child's senior year? Now, you can keep everything in one place by integrating your SchoolQuest account with leading online storage services like Dropbox.

Research New Schools

Choosing the wrong school can make your student miserable. Get it right with SchoolQuest's interactive note-taking features during your next school search.
"SchoolQuest paints a complete academic and extra-curricular picture of a school without bias."
- SchoolQuest User
Your Plan For a Hassle-Free School Transition
Get Access

Sign up for free to start using the tools and gain access to our growing list of resources.

Add Your Kids

Set up a record for each of your students and start managing your move.

Get Organized

Create checklists, set reminders, create notes during your school research, and more.
"SchoolQuest equips parents to handle school transitions with confidence and ease, providing a supportive educational path for their children!"
- SchoolQuest User
Military-Connected Students Deserve a Smooth Transition When They Transfer Schools
But Sometimes, That Doesn't Happen...
No two schools have the same process.
Tracking deadlines can become time-consuming.
Each child needs different paperwork.
It's difficult to know where to start.
The files you need are all over the place.
It's hard to find help when you need it.
Any "special situation" can cause delays.
It's tough to know if you've got everything.
"It's my hope that both families and schools will learn about SchoolQuest and use it to mitigate the stress of school transitions at any level."
- SchoolQuest User
SchoolQuest has the tools you need to make sure your students are enrolled in the right classes on the first day of school without the usual hassles of a PCS move. And it's free forever.