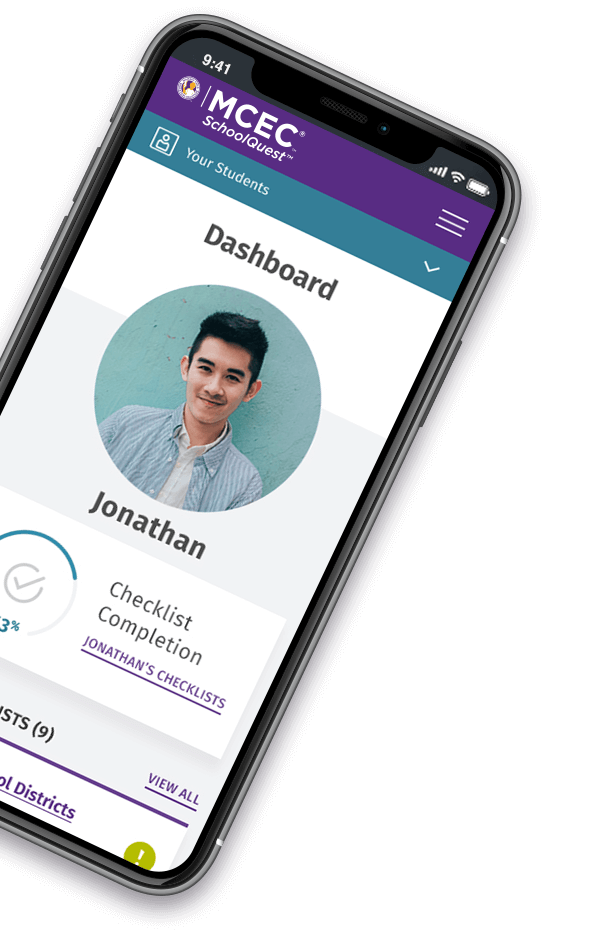 SchoolQuest Can Solve Your Most Frustrating Problems
PLAN YOUR STUDENT'S YEAR AND ACADEMIC CAREER

Eliminate problems and delays by managing multiple student's academic careers simultaneously with SchoolQuest. Your dashboard allows you to stay on top of your student's education, whether you want to look at what they need during the year, or want to make sure they're on track to graduate.

STAY ON TOP OF THE DETAILS

SchoolQuest's custom and prebuilt checklists ensure you can stay on top of it all. With due date reminders, you won't have to worry about tasks slipping through the cracks. You can even sync task due dates with popular online calendar services, so you can easily see everything in one place.

ORGANIZE YOUR RECORDS

Worried that a missing record will derail the start of your student's school year? Now, you can keep everything from shot records, to transcripts all in one place by integrating your SchoolQuest account with a leading online storage service like Dropbox. This can make moving to a new school easier and can even make applying for colleges a more seamless process for your student.

RESEARCH NEW SCHOOLS AND SCHOLARSHIPS

Finding a good school at your next location takes time. Get it right with SchoolQuest's interactive search guidance and note-taking features during your next school search. There is also a scholarship search tool with a note-taking feature that can help your student take control of their education after graduation.
"It's so important to digitize a child's portfolio. In the event papers are lost in moves, or if parents need to share the information with schools, it would make it so much easier."
- SchoolQuest User
Your Plan For a Smooth School Year
Get Access

Sign up for free to start using the tools and gain access to our growing list of resources.

Add Your Kids

Set up a profile for each of your students and start managing their education.

Get Organized

Create checklists, set reminders, create notes during your school research, and more.
"SchoolQuest equips parents to handle school transitions with confidence and ease, providing a supportive educational path for their children!"
- SchoolQuest User
PCS Moves Can Have A Lasting Effect on Students
No two schools have the same process, and without pre-planning, a student may have to take freshman year classes to graduate.
Tracking deadlines can become time-consuming, and missing deadlines means your student may miss a class or extracurricular they wanted to participate in.
Each student has differing needs and different paperwork.
With all the information scattered between schools, it's difficult to know where to start, and it can take time to sort through it all.
Any "special situation" can cause delays.
SchoolQuest Can Help
Our prebuilt and custom checklists make it easy for you to keep track of what is due when. Receive email reminders to let you know when a task is nearing its due date, so you never have to worry about missing another deadline.
Our academic tracker makes it easy to keep track of moves and previous courses your student has taken.
Our resource library contains more than 300 different resources and was created by educational professionals who specialize in military-connected transitions. The library is ever-growing and resources are regularly updated, so you don't have to scour the internet to find the most accurate information.
Our document center makes it easy to keep track of documents, transcripts, and your student's portfolio.
"I really like how comprehensive it is. It is filled with the kind of information I wish I had when we first started military life with children."
- SchoolQuest User
SchoolQuest is the tool you need to make sure your students are enrolled in the right classes and have the support that they need. With SchoolQuest, you can feel confident that you and your students are in control. And, it's free. Register to see just how much SchoolQuest can help you and your family!